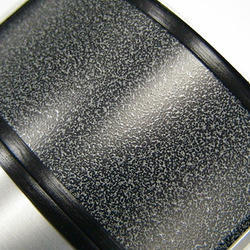 Product Details:
| | |
| --- | --- |
| Brand Preference | Tulip Paints |
| Categories | Regular Solid Colors |
| Features | Chemical Resistant, Impact Resistant, UV Resistant |
| Material | Polyester, Polyurethane, Epoxy, Acrylic |
| Type | Thermoset |
Approx. Price Rs 200 / Onwards Kg
---
Product Description:
We manufactures special metallic Powder Coating which are durable and suitable for decorative coatings. The metallic variants of our powders provide a combined effect of attractive appearance with excellent mechanical properties. Some of the metallic variants require a clear topcoat on it to eliminate the possibility of oxidation of the metallic pigments and to protect the integrity of finish.
A wide variety of customized metallic shades have been formulated for both indoor and outdoor applications such as:
Power tools and marine components
Fitness and recreation equipment
Lawn and garden equipment
Furniture
Features:
Economical and easy to create
Wide varieties of Base Coat for both Indoor and Outdoor applications
Technical support and Assistance:
Simple technology for most general purpose applications
Can provide Economical Heat Transfer Film which can be used with your existing powder coating technology.